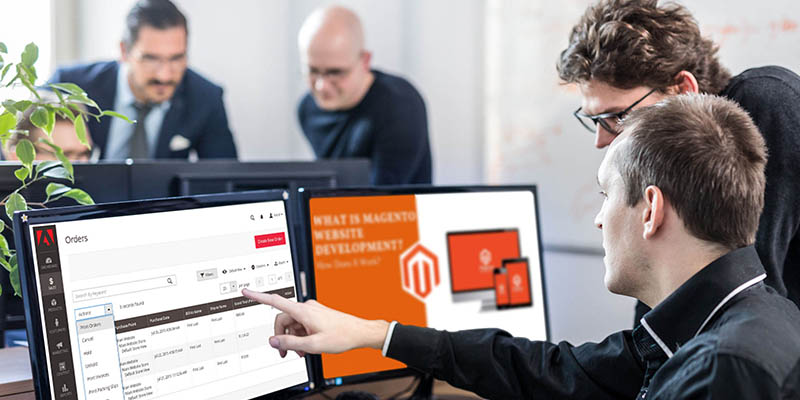 What is Adobe Commerce?
Formally known as Magento, Adobe Commerce sits very comfortably at the high-end enterprise stack of e-commerce solutions. With multiple replicated databases and load-balanced, clustered high-availability web server frontends, this platform offers you a lot of power behind it.
Whilst primarily aimed at customers who are looking for a more inclusive and all-encompassing package, there are additional variants available right down to the 'free' open source Community Edition for entry-level sellers looking to make their move into their chosen industry.
Some of the significant advantages of Adobe Commerce for vendors are:
Advanced SEO

– built with SEO in mind, your online shop has a better chance to rank higher on search engines

Dynamic Storage

– supporting up to 500,000 products on one site and handling about 80,000 orders per hour

Enormous Community

– its impressive 29% market share includes 240,000 businesses along with 800,000 developers internationally

Mobile friendly

– shopping carts are wonderfully responsive, ensuring they are seamlessly accessible on mobile devices

Versatile content management

– a visual-based page editor allows you to customise and build a wide selection of pages with ease

Vast range of third-party plugins

– a selection of external integrations available. From payment gateways such as PayPal to marketing platforms such as MailChimp, all available for easy integration at your fingertips

Customisable Security Permissions

– ensure your site is secure with the ability to manage access through multiple levels of security permissions

Intelligent Filtered Search

– a combination of search terms cloud, tag filters, product reviews and the capability of configuring search for products makes it easier for customers to find your products

Integration with Well-known Marketplaces

– Channel Advisor, Amazon, eBay, Tesco and many more just a few clicks away from broadening your shop's reach
All order processing and management are handled via the API and our experienced team is the first line of support for order processing.
Ex-Commerce: Adobe Integration
We can offer an enterprise-level E-Commerce integration platform for Advanced Exchequer which is unbeatable in terms of cost, performance and the ability to scale up as your business grows.
Ex-Commerce: Adobe is built on our unique Advanced Exchequer API platform that allows us to integrate from Advanced Exchequer. Included in this is automated synchronisation of Customers, Stock and Stock Quantities, and Order updates. Order imports are flexible and can be set to either SQU or SORs globally or individually.
We favour an inclusive and forward-thinking approach – the integration supports both Pervasive PSQL and Microsoft SQL versions of Advanced Exchequer, with the requirement of Advanced Exchequer being on version 12 or newer.
Advanced 

Exchequer Customer Accounts
Customer accounts created in Adobe Commerce can be seamlessly imported into Advanced Exchequer
Advanced Exchequer Accounts are synchronised to Adobe Commerce and offer a highly customisable means of filtering. They can be filtered with the use of a chosen flag in a User Defined Field in Advanced Exchequer, allowing for specific customer records to be exported to Adobe Commerce and others not, and/or to allow customer records to be exported into different Adobe stores
Edited records in Advanced Exchequer or Adobe are updated bi-directionally with both systems reflecting the same alterations
Upload Pseudo Accounts in Advanced Exchequer to Adobe as customer groups
Upload account discounts from Advanced Exchequer to Adobe as tiered pricing
Advanced 

Exchequer Product and Stock Management
Export products created in Advanced Exchequer to Adobe as simple products.
Manage stock from one, some or all Advanced Exchequer Stock locations
BOM's Stock levels adjusted to account for stock availability of the components in a 'Could Build' value automatically adjusting web levels accordingly
Order Processing
Import orders created in Adobe by picking up all orders in a specific status and setting them to another particular status after picking them up
Import orders under selected accounts depending on SQL logic or as the customer account that placed the order
Import orders as SOR's or SQU's or a combination based on settings in account user-defined fields
Bespoke additions can be arranged to be implemented into the integration upon further consultancy.