Antivirus and Antimalware Software
Antivirus and antimalware software are both essential tools in today's home and business computing world, with the risks being great for those who are not protected.
With the dangers of malicious online security breaches constantly evolving, from malware to viruses to ransomware – we deploy and monitor cybersecurity solutions for desktop and server endpoints, successfully preventing a range of cyber-attacks that your company may face on a daily basis.
Due to the evolving nature of threats, we have a number of solutions that we can supply and configure to meet your varying security requirements, whether it be for remote or office use. Having used all of the tools listed in-house we have extensive knowledge of the products on offer.


Bitdefender Benefits:
Easy to deploy and use with a central cloud console
Cost-effective solution
No user minimum
Highly customisable – set policies, rules and block access to certain
Compatible with Windows, Mac and Linux systems
Advanced threat control feature for 24/7 malicious activity monitoring
Intuitive filter settings
Location-aware policies
Email notifications
Device & USB control scanning
Two-way firewall
Antivirus and antimalware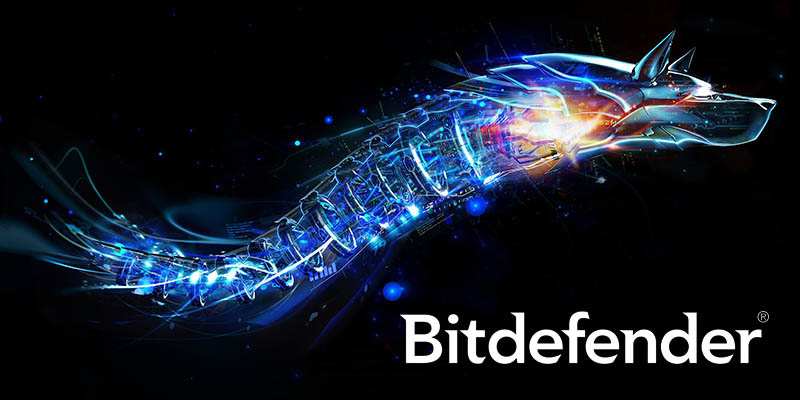 Heralded as a global leader in cybersecurity for personal use and businesses alike, Bitdefender provides an all-encompassing service to protect against all threats. With their proprietary GravityZone platform, we are able to implement bespoke protection policies and provide a dedicated service to monitor your network.  With additional benefits such as vulnerability assessments, we are able to deploy a system that focused on security without compromising performance.
Ransomware Prevention & Mitigation – blocking and prevention capabilities, real-time process monitoring, and user and system risk mitigation technologies
Network Attack Defence – prevention against exploiting network vulnerabilities, security tools to block threats such as Brute Force attacks and lateral movements that can be targeted
Protection Integrated with Endpoint Risk Management – assess and rectify endpoint weaknesses to ensure healthy network security to minimise organisational risks
Progressive AI & Machine Learning – an evolving system which enables better detection and decreases the chance of false positives
Layered Protection – desktops, laptops and servers benefit from the machine learning, heuristics, memory protection, malware blocking, quarantining, signatures and continuous monitoring of running processes on your devices
Largest Security Intelligence Cloud – the Bitdefender Protective Network performs 11 billion queries daily from over 500 million protected endpoints, combined with machine learning to detect threats without compromising your company's flow
Advanced Application Behaviour Monitoring – with a frequently evolving system, running processes are constantly monitored for any signs of malicious behaviour
Web-based Security – remote installations and network monitoring from a central web-based system means quick deployment and assessment without any disruptions to your business

CryptoPrevent v9 Features:
SRP Protection
HoneyPot Ransomware
Protection
Folder Watch
Program Filtering Protection
Expanded Malware Definitions
KillEmAll v5 Integrations
New User Interface
Tray Icon Features and
Notifications
Command Line Parameters
Customization Abilities
Submit Malicious Files
New Maintenance/Repair Options
Automatic Maintenance
Email Alerts
Automatic Updates Delivery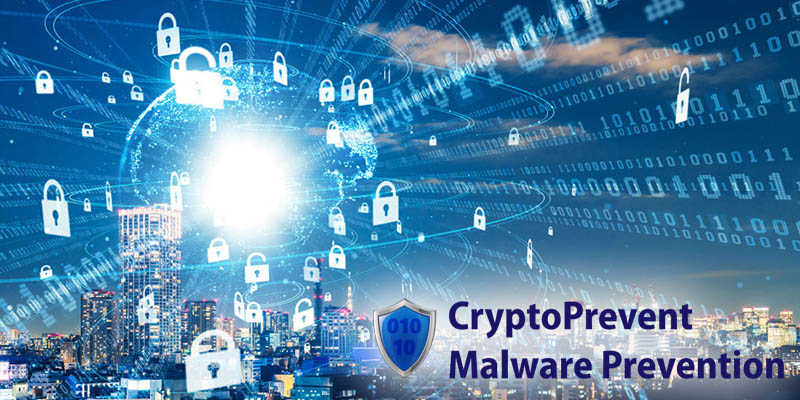 When the first ransomware which encrypted the data of infected PCs with the aim of extorting payment for decryption first emerged in 2013, the team behind CryptoPrevent devised the original CryptoLocker prevention tool which clamps down on such threats for your business. The product uniquely placing itself as an effective antivirus and anti-malware supplement to work in tandem with your everyday cybersecurity solutions.
Malware & Ransomware Prevention – common files are monitored and protected against any form of threat matching malware definitions, conversely folders can be added to whitelists for further convenience
Enhanced Security & Reliability – non-essential applications are scanned and rapidly determined if they should be eliminated, a growing list of Software Restriction Policies (SRP) offering a broad range of software which are safe to run to reduce the risk of false positives of malware
Automatic Updates – silent updates implemented in the background on a schedule to ensure your solution is up-to-date with the definitions of all possible threats

WithSecure Features:
All-in-one protection for computers, email, file servers and mobile devices
No hardware investments
Based on the World's Best Protection
Totally hassle-free – we manage it for you
With advanced cloud-native and AI-powered algorithms in place, F-Secure protects your company's network by blocking any indications of automated, targeted and advanced threats while providing a complete package for your business.
Cloud-native protection – response systems and risk analysis providing integral information for appropriate responses against potential threats
Comprehensive Network Protection – all devices are protected with multi-engine detection capabilities in a unified multi-endpoint cybersecurity solution which defends against real-time threats

Computer Protection – anti-malware, proactive protection against 0-day exploits, additional detection of ransomware and destruction of data, online phishing sites and malicious scripts averted
Mobile Protection – encrypted VPN service for use with public Wi-Fi and mobile networks whilst securing against malware when browsing, lightweight installation to avoid slowing down your device or reducing battery life
Server Protection – supported for the following operating systems: Citrix Server, Linux Server, Microsoft Windows Server and Microsoft Windows Terminal Server

Software Updates – patch management is available with over 2000 Windows native and third party software such as Apache, Flash, Java and Microsoft SQL, all to be silently implemented to hinder disruptions to your business workflow
Centralised Management – consolidation and maintenance carried out via a cloud-based platform to implement deployment, updates, extensive reporting, uninstallations and the setup of policies across your network.

Heimdal Features:
Unique Threat Prevention of the Most Advanced Ransomware Viruses, Spyware and APTs
Traffic-based Malware Blocking (HIPS)
Exploit & Dropper Blocking (HIPS)
Attack Forensics & Source Identifier (IOAs, IOCs)
Threat Hunting (EDR)
Multi-layered, AI Powered Protection
Patch Management
Blocks Data Leakage
Traffic-based Malware Detection (HIDS, IOAs, IOCs)
Browser-based Protection
Phishing Protection
Firewall
Next-gen Antivirus
Local Signature / File-based Scanning
Real-time Cloud Scanning
Sandbox and Backdoor Inspection
Process/Behavior-based Scanning
Lightweight Installation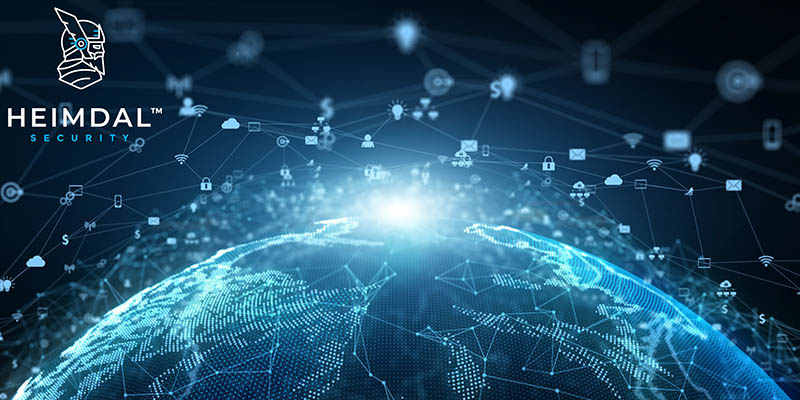 Unified, intelligent and secure. This is the three-pronged mantra of Heimdal Security who offer an all-in-one fully integrated network and endpoint protection solution. Working alongside the FBI to track and take down the original Cryptolocker domains and products recommended by the RBS Banking Group, Heimdal has a firm track record that makes them ideal for your business. Boasting next-generation antivirus, traffic filtering drilled down to DNS level on endpoints as well as discreet automated third-party patch management, they are one of the only vendors to offer an integrated array of features.
Threat Prevention – DNS, HTTP and HTTPS two-way traffic filtering engine through the Host-Based Intrusion Prevention System (HIPS), the Darklayer Guard module is enhanced with Threat to Process Correlation (TTPC) tools for essential threat investigation.
Patch & Assets – all the tools needed in a central platform to pre-emptively patch for vulnerabilities of Windows and third-party software, deploy silently during a predefined schedule or as required and view and manage software inventories.
Endpoint Detection – ransomware encryption detection, Next-Gen anti-virus and MDM processes cyclically carrying out incoming attack prevention, local file/signature and registry scanning, real-time cloud scanning, sandbox and backdoor inspection, and process behaviour-based scanning all seamlessly in the background.
Privileged Access Management, Application Control & Auditing – full audit trail of users' previously used software, allow or block requests for escalations, fully automated de-escalation when identifying threat resolutions, rights assigned by Active Directory groups; block or allow apps based on file path, MD5, publisher, certificate or software name.
Email Security Protection – monitoring of all emails to detect and prevent BEC, CEO fraud, phishing and advanced malware, detecting imposter threats such as modified invoices, in-depth scanning of attachments, connection to external invoice approval system utilising APIs.